TO THE HANNESNHOF, YOUR FAMILY VACATION APARTMENT IN ÖTZTAL
Besides Hannesn and several other animals, we, the Egger family, would like to welcome you to the Hannesnhof. We will take care of all your needs and make sure that you spend an unforgettable time on our farm. In the past, the Hannesnhof was a traditional inn with an attached farm. It was discontinued in the course of time. However, the good old times are reflected in the newly built family vacation apartment with revived agriculture. And the special family atmosphere makes for an unforgettable family vacation in Ötztal. We are already looking forward to welcoming you, Your family Egger and the animals of the Hannesnhof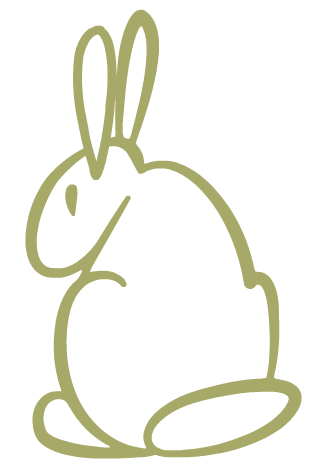 A few sheep trotted around the corner… a rather slow one and four more curly ones… soon after, a crazy chicken came hopping towards them… a grinning chicken named Berta waddled in after them. "Oh, we haven't even introduced ourselves yet: I'm Wilma, the oldest sheep here at the farm." – "Hi, everybody. Nice to see you all here. I'm the rabbit here at the farm. My name is Hannesn." (from: Welcome to Wilma's & Flori's Place)
At your own convenience, you can enjoy the panoramic view across the valley and read about what three little goats find under a big chestnut tree, who Wilma and Flori are, and what Hannesn the rabbit is up to. Where? At the Hannesnhof, of course.
You will also have an opportunity to get acquaintanced with all the charming animals that live on our farm. See you soon at the Hannesnhof family vacation apartment.
To make your vacation as relaxing and carefree as possible, our Hannesnhof offers many extras such as special amenities for children, a morning bread service, a parking place for bicycles, and much more.
Simply feel good! That is all you have to do, while we take care of everything else. In our 8 apartments you will find everything you need for a successful vacation in Ötztal. Clear lines in classic elegance meet traditional elements.
The Ötztal valley is a real gem in the Tyrolean Oberland. It is known for its breathtaking natural diversity, idyllic villages, and abundant recreational opportunities. From summer to autumn, countless hiking opportunities, bike tours, and via ferrata routes are available for leisure activities. In winter and spring, skiers and snowboarders can show off their skills on the perfectly groomed slopes and cross-country skiing trails.
At Hannesnhof, we place great emphasis on sustainability and nature protection. We are proud to operate a photovoltaic system that provides us with renewable energy. We also offer e-charging stations for cars and bicycles to encourage our guests to use climate-friendly transportation.